TRADE WAR BETWEEN UNITED STATE OF AMERICA AND CHINA REVIEWED FROM THE RETALIATION PRINCIPLE
Abstract
This paper aims to examine how the principle of retaliation in the case of a trade war between the United States and China is now happening. The General Agreement on Tariff and Trade (GATT) in the World Trade Organization (WTO) has regulated acts of retaliation in the context of international trade. Even though there are different conceptions of retaliation in the two international legal frameworks, they both recognize the retaliation action. The results of the study shows that the economic policies carried out by the United States are called trade remedies in the form of protestionism which aimed to minimize the negative impact of imports on domestic products. Furthermore, actions taken by China are one example of the remedial actions in the form of retaliation. WTO has a remedy mechanism which is divided into three types, namely: (a) the plaintiff withdraws or changes actions that are not in accordance with the WTO; (b) compensation; and (c) delaying concessions or commonly called retaliation.
Keywords
Retaliation Principle; Trade War; United States of America-China; World Trade Organization (WTO)
References
Bibiliography Books Hata. (2016). Hukum Ekonomi Internasional: IMF, World Bank, WTO. Malang: Setara Press, hlm. 147. Huala Adolf. (2011). Hukum Perdagangan Internasional, Cet. 4. Jakarta: Raja Grafindo Persada, hlm. 1-2. Palmeter dan Petros C. Mavroidis. (2004). Dispute Settlement in The World Trade Organization. New York: Cambridge University Press, hlm. 6-7. Salvatore, Dominick. (1992). Economia Internacional. Jakarta: Erlangga Van de Bossche, Peter. (2010). Pengantar Hukum WTO, Jakarta: Yayasan Obor Indonesia, hlm.103. Journals Adirini Pujayanti. (2018). "Perang Dagang Amerika Serikat – China Dan Implikasinya Bagi Indonesia". Vol. X, No. 07/I/Puslit/April/2018, hlm. 8. Febrina Damayanti, Noviar Indira M.P., Retno Sri Wahyuni, M. Rahadi¬an Prayoga, dan Giovani Kevin N.W. (2018). "ASEAN di Tengah Rivalitas AS dan Cina: Kerja sama ASEAN dengan RCEP dalam Men¬gurangi Dampak Perang Dagang". Indonesian Perspective, 3(2): 151. Freddy Josep Pelawi. (2007) "Retaliasi dalam Kerangka Penyelesaian Sengketa WTO". Bulletin KPI Edisi 46/KPI/2007: 2. Grossman, Gene M. & Helpman, Elhanan. (1995). "Trade War and Trade Talks". Journal of Political Economy, 103(4): 1. Imawan Dicky Prasudhi. (2007). "Penanganan Sengketa Perdagangan Internasional Melalui WTO (World Trade Organization)". Hukum dan Dinamika Masyarakat, 5(1): 40. Lepi T. Tarmidi. (2014). "Perdagangan Bebas Versus Proteksionisme". Jurnal Kebijakan Ekonomi, 9(2): 113. Lona Puspita. (2017). "Upaya Penerapan Retaliasi Dalam Penyelesaian Sengketa Perdagangan Internasional Melalui World Trade Organization (WTO)". Jurnal Normative, 5(2): 54. Maya Meralda Kartika. (2013). "Proteksionisme Amerika Serikat Pasca Krisis Finansial 2008". Jurnal Analisis Hubungan Internasional, 2(3): 1-2. Meliyani Sidiqah. (2019). "Retaliasi Indonesia Atas Tuduhan Dumping Terhadap Korea Selatan". Jurnal Wawasan Yuridika, 3(1): 87-88. Nandang Sutrisno. (2007). "Memperkuat Sistem Hukum RemediPerdagangan, Melindungi Industri Dalam Negeri". Ius Quia Iustum Law Journal, 14(2): 231-232 Tri Harnowo. (2008). "Peninjauan Ulang Ketentuan Retaliasi sebagai Reformasi Aturan Penyelesaian Sengketa WTO". Indonesian Journal of International Law, 5(2): 268. Papers VIF Paper. (2018). Diakses dari https://www.vifindia.org/sites/default/files/US-CHINA-Trade-War.pdf. (pada tanggal 10 mei 2019, jam 9.51) Goncalves, S. et al. (2018). "US - China Trade War: Impact Assessment", hlm. 5. Thesis Alek Karci Kurniawan. (2017). Skripsi: "Penyelesaian Sengketa Perdagangan Internasional Di World Trade Organization: Studi Kasus Korea—Anti Dumping Duties On Imports Of Certain Paper From Indonesia (Ds312)" (Padang: Universitas Andalas), Cholillah Suci Pratiwi. (2015). Tesis: "Retaliasi Dalam Kerangka Penyelesaian Sengketa Disputes Settelemnt Mechanism (DSM) WTO" (Yogyakarta: Universitas Gadjah Mada, 2015), Hlm. 4. Febri Yunanda. (2014). Tesis: "Tinjauan Prosedur Pengiriman Ekspor Karet (Rubber) Pada Pt Remco Palembang Laporan Akhir" (Palembang: Politeknik Negeri Sriwijaya), hlm. 9. Ria Yani Fatmawati. (2015). "Analisis Pengaruh Perdagangan Internasional dan Utang Luar Negeri Terhadap Gross Domestic Product Indonesia(Periode 1990 –2010)". JESP 7(1): 57. Wilia Agustiani. (2017). Skripsi: "Analisis Faktor Faktor yang Mempengaruhi Impor Migas (Minyak Dan Gas) di Indonesia; Pendekatan Error Correction Model" (Yogyakarta: Universitas Muhammadiyah Yogyakarta), hlm. 11-14. Website/Internet Investopedia. (2019). Diambil dari https://www.investopedia.com/terms/t/trade-war.asp. (Diakses pada 11 mei 2019, 20.30 WIB). Kompas.com. (2018). China masih jadi mitra dagang utama Indonesia. Diambil dari https://ekonomi.kompas.com/read/2018/02/15/150506126/china-masih-jadi-mitra-dagang-utama-indonesia. (Diakses pada tanggal 22 April 2019, jam 19.00 WIB). International Convention Dispute Settlement Undestanding (DSU)-WTO General Agreement on Tariffs and Trade (GATT)
Refbacks
There are currently no refbacks.
Copyright (c) 2019 Tadulako Law Review
This work is licensed under a
Creative Commons Attribution 4.0 International License
.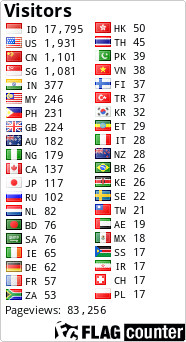 This work is licensed under a
Creative Commons Attribution 4.0 International License
.